By popular request I've taken the Transcendence engine and turned it into a screen saver. Now you can watch your favorite Transcendence ships attempt to blow each other up, all while saving your monitor from dreaded burn-in.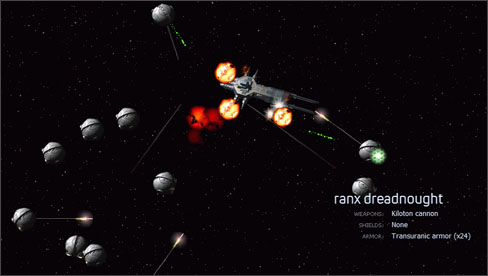 Transcendence Screen Saver 1.0a



9.99 MB
14 August 2010
Since the release of Transcendence 1.0 last month, the attention the game has gotten has been great! Derek Yu (of Spelunky fame) wrote about it on TIGSource, and Reddit picked it up, neatly spiking my traffic to crazy levels.
All in all, more than 10,000 people have download the game (which means that the number of people who've reached Heretic without resurrect has probably increased by one or two).
Of course, new releases always come with new bugs, and this one is no exception. With the help of the community, I've fixed a handful of important bugs and put together a 1.01 release. The full version history is here.
Looking forward, I expect to work on the following things:
Changing ships: Some of my plans for 2.0 will require this, but I want to get in the support for it sooner rather than later. Although the capability will not yet be used, the support will be there for mods to take advantage of it. This will probably show up in version 1.1.
Game stats: One feature of sandbox games that I want to add to Transcendence is a more detailed set of statistics. For example, the game should track things like the amount of profit the player has made in trading; the number of slaves rescued; perhaps even the number of civilians killed. At the end of the game, the player can get a listing and compare their performance against others. This will probably show up in version 1.1.
Transcendence server: Ultimately, people should be able to share their stats with others. The Transcendence game server would keep game records in a central place so that players can share their stats. I would also use this server to automatically capture crash information (Debug.log) and game-play information (e.g., how many people reach St. Katharine's star?). This probably will not show up until 1.2 or beyond.
2.0: Finally, I plan on spending a lot of time designing the post-Heretic game. I already have a lot of ideas, but I can always use more. Sometime in the 1.1 time-frame I will begin sharing some of my plans on the forums. I can't wait for your feedback!
As always, thanks for your support!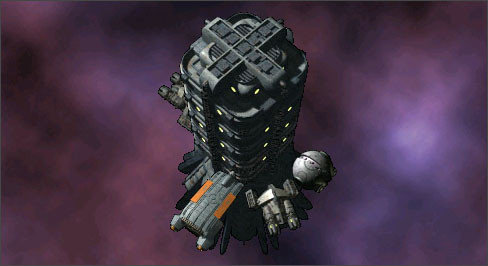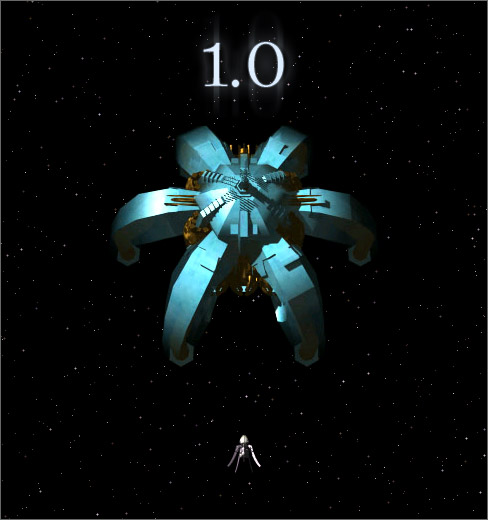 After years of work, dozens of intermediate releases, and thousands of suggestions and ideas from the loyal community, Transcendence 1.0 is finally done! To everyone who has ever played the game, and especially to those who have patiently stuck with me for release after release, I offer my most heartfelt thanks. This truly could not have happened without you.
When I released Transcendence version 0.7 back in November 2003 I was confident that I could finish a 1.0 release in a couple of years at most. Even as recently as late 2008, I thought 1.0 would appear in early 2009. While I clearly haven't learned much about predicting my own development cycle, I have learned quite a lot in creating this game. In honor of this release I'd love to share some of what I've learned in hopes that it might be of use to some of you who are engaged in your own game projects.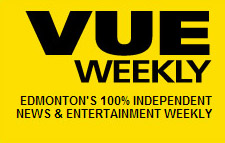 Darren Zenko writes about Transcendence in Edmonton's Vue Weekly. I love this quote:
"The best part is when you play for long enough, get into the hypno-zone that lets you X-ray-view straight through the sci-fi surface and down into pure, universal mechanics: when you look at a "stargate" and see a "dungeon stairway," a "ROM upgrade" and see a "magic scroll," a "barrel labelled NOT FOR HUMAN CONSUMPTION" and see a "potion," you're seeing through the illusion, not "suspending disbelief" but building up disbelief to such a degree that you're not just playing a game, you're playing all games"
James Murff who writes the Freeware Friday column at Big Download just posted a review of Transcendence. I like this quote:

"Imagine if Nethack and Star Control 2 got together and had a top-down illegitimate child that went on to bigger and better things. That's Transcendence in a nutshell."

One correction: Transcendence now runs on Linux after much hard work by Benn Bollay (GambitDash).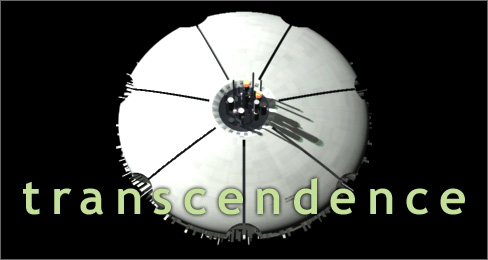 Five years ago today I released Transcendence 0.7, the first public alpha release. Since then, we've gone through seven major releases and eighteen minor releases. No, we haven't reached 1.0 yet, and yes, we are running out of pre-1.0 version numbers, but five Terran orbits later, I am very proud of all that we in the Transcendence community have accomplished
Five years seems like a long time, but believe it or not, the development of Transcendence began much earlier. On May 1st, 1995, the following post appeared on comp.os.ms-windows.nt.misc:
In case anyone is interested, I've just uploaded a beta version of a game that I've been working on. Right now, the game only runs on Windows NT (not Windows 95) and has only been compiled for Intel platforms. Please try it out and let me know what you think (by e-mail). The file is frontier.zip and I put it up on ftp.wustl.edu under the /pub/msdos_uploads/nt directory. I imagine that eventually it will get moved to the win/nt directory.

Frontier is a game of both skill and strategy in which you explore the various star systems of the Frontier while seeking to increase your income and pay for improvements to your ship. Throughout the game you will fight increasingly more powerful enemy ships and stations, and, by looting their remains you will be able to equip your ship with better armor and weapons.

-- George Moromisato
Sound familiar? Frontier was my first attempt at creating a cross between Nethack and Star Control II and as you can see from the description, Transcendence is Frontier's direct descendant.
To celebrate the 5th anniversary of Transcendence's first public release, I've dug through my archives to find the original release that I posted in 1995: Frontier 0.5.
Transcendence has come a long way since then, and I have no doubt that the game will continue to improve and evolve in ways that we cannot yet imagine. Happy 5th anniversary!
Transcendence 0.99c is ready with some important bug fixes. Consult the Version History page for a full list of changes.
The latest version of Transcendence has another batch of fixes to bugs reported by players. In addition to fixing several crashes and save file corruption bugs, this new release also fixes some problems with Korolov and Huari missions.
As always, the Version History page has a full list of changes.
Thanks to lots of reports from playtesters I've made a bunch of important bug fixes. For a complete list of changes please consult the Version History page.
Transcendence 0.99 is finally here! With major changes to the Eridani system and the Korolov Shipping Corporation, you will notice the difference right away. And if you make it past St. Katharine's Star and into Sung space you may get a chance to learn more about the Huari Empire and perhaps even visit their secret refuge.
Eridani and the Korolov Shipping Corporation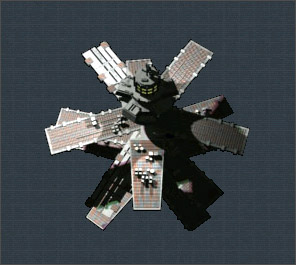 The changes in version 0.99 start in Eridani itself. The Centauri warlords may not threaten the central stations of the metropolis, but the lesser stations are not so lucky. Help them to contain the threat of the warlords and they may help you in return. But watch out for Arco Vaughn! The warlord commander will not surrender without a fight.
Beyond Eridani you can look forward to enhanced Korolov missions. Escort six different kinds of freighters, each with its own strengths and weaknesses. Be careful not to take on a mission that you cannot handle—escorting valuable cargo may pay more, but it also attracts more attention from the Charon pirates. And if you think killing Corsairs is all you have to worry about, wait until you run into a Charon frigate—only the best will survive that encounter.
Exploding Stations and Hardened Missiles
Version 0.99 also has many game balance changes, including support for exploding stations (thanks, digdug!). With this change, sitting on top of a station to destroy it may be harmful to your health. Instead, keep your distance and see if you can eliminate some enemy ships when the station finally blows.
Another enhancement adds hit points to missiles. Don't you hate it when your expensive XM900 missile gets destroyed by a stray laser shot? Now these missiles are a little harder to kill.
The Huari Empire and the Sung Slavers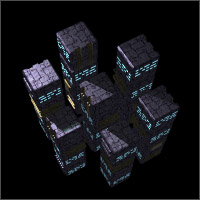 A hundred and fifty years ago the Huari Empire ruled the area known as the Ungoverned Territories. But the Sung Slavers, wielding their formidable technology, invaded Huari space and nearly exterminated their culture. Now the Huari brood inside of their massive fortresses, suspicious of everyone who approaches. But through it all, the Huari remain hopeful that one day they will reconquer their worlds. Their priests foretell a time when a stranger will appear and help the Huari to defeat the Sung and rebuild their proud culture.
And Much More
As always, there are a few small surprises in this version that you'll have to discover for yourself. And as always, there are lots of improvements to the modding system. It's been a long time coming, but 0.99 is ready for download and ready to play!
Download Version 0.99
Read the List of New Modding Features
Read the Complete List of Changes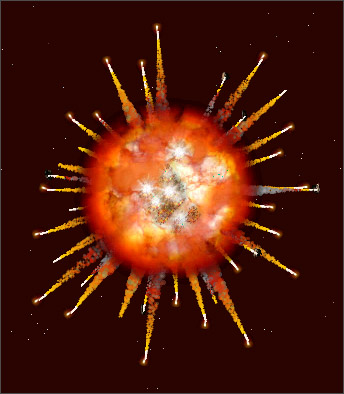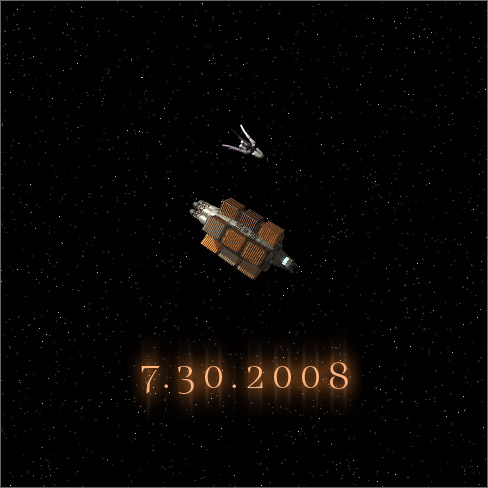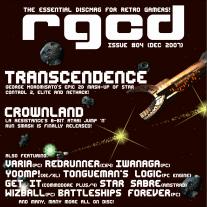 RGCD, the UK-based retro gaming discmag has just published a review of Transcendence.
"Since those halcyon days of home computing I've been fruitlessly searching for a game that successfully combines the free-roaming rogue-like nature of Frontier with the simple, lively and enjoyable 2D universe of [Star Control II]. Finally, and thanks to the efforts of George Moromisato, I think I've found it in Transcendence."
Transcendence 0.98d adds a couple of minor fixes. I've fixed the crash when opening contraband ammo boxes (thanks to "the wanderer") and I believe this also fixes a bug when dropping items into the Teraton fabricator pit.
More importantly, this version moves away from DirectX and uses normal GDI calls to blt each frame to the screen. The main advantage is that Transcendence will no longer switch resolution to run, but an added advantage is that the game will work better with Vista and (hopefully) WINE on Linux.
There is a small disadvantage, however: since GDI is a bit slower than DirectX, some computers may run Transcendence slower. If you have this problem, run Transcendence with the /dx switch to use DirectX. But most modern processors and graphic cards will show no difference.
As always, a complete list of fixes appears on the version history page. Thanks to all the players who posted bugs in the forums.
Nethack is still one of my favorite games. Depth and detail, along with playability and the illusion of simplicity, combine to make Nethack one of the best games of all time. I have always wanted to create a space adventure game with similar properties. The variety of enemies, weapons, and wondrous devices will hopefully provide some of the same depth to Transcendence, and the simple format should make it easy to learn and play.